essaouira kite surf school
Join us for a Kitesurfing & Surfing course
Kitesurfing has been gaining more and more popularity since its creation. It combines wind and water to offer unique and extreme sensations. The principle of this discipline is quite simple, but its practice requires training provided by experts in the field. Discover the best kitesurfing school in Essaouira with Kitesurf Essaouira to learn this thrilling sport quickly and efficiently.
Kitesurfing Essaouira is a renowned school in the Essaouira region offering kitesurfing lessons for all levels. We provide you with the best kitesurfers in Morocco to be your instructors throughout your learning journey. We teach with state-of-the-art equipment, not only for your safety but also to achieve the best performance possible. If you want to go kitesurfing in Essaouira during a short stay but don't have equipment, don't worry. We also offer the rental of all types of modern equipment for your water sports, including kitesurfing.
The city of Essaouira has so much to offer on multiple levels. It is one of the most tourist-friendly cities in Morocco, with excellent historical sites to visit. An airport is just a 15-minute drive away with direct flights to Europe. Kitesurf Essaouira has planned a plethora of activities to make your stay unforgettable. We have selected the best hotels and accommodation options to suit a more than generous budget. You will also have nautical courses available to learn kitesurfing or surfing.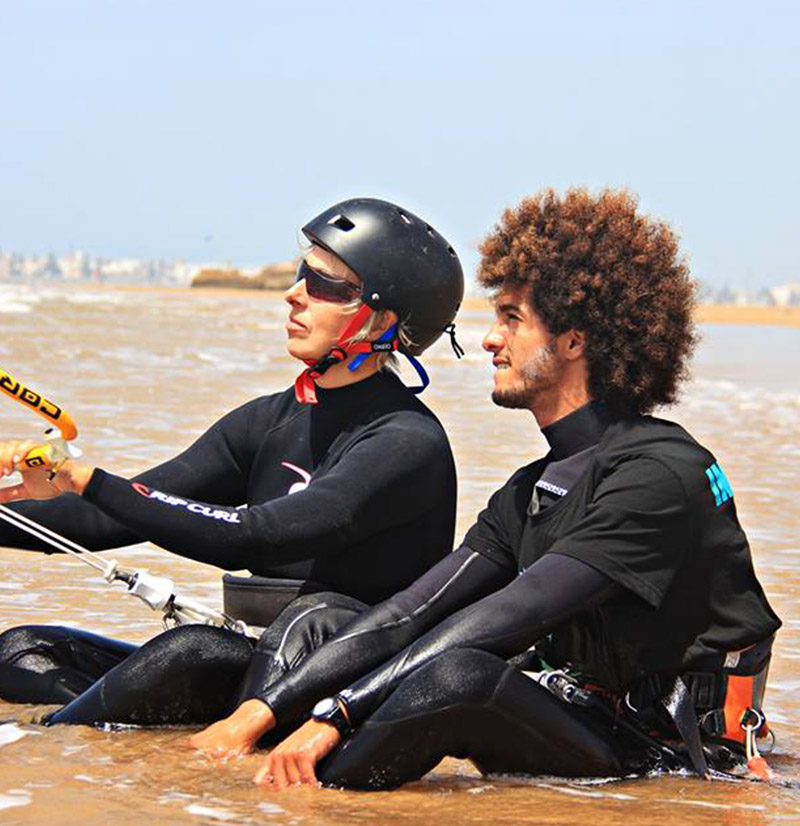 The surf lesson was incredible, I had a great time, and I will definitely come back for more surf lessons 😉
All the equipment is great, and the instructors are amazing. Anas definitely knows what he is teaching! I was able to get on the board in less than 10 minutes thanks to his great advice!
A very beautiful surf club, of high level, pleasant setting, located on the stunning beach of Essaouira, managed by an excellent and professional team.
I was very well welcomed, and I had enjoyable and unforgettable moments. The coaches are top-notch and very welcoming, which impressed me. I will definitely come back soon.
Kitesurfing with the Kitesurf Essaouira team was the highlight of my trip to Morocco. I took kitesurfing and surfing lessons as a beginner, and Anas helped me feel immediately comfortable in the water. He adapted his teaching to my level and was very motivating. the surf...
Kite Essaouira school: quality above all else!
Quality supervision is the essence of our kitesurfing school in Essaouira. Kitesurf Essaouira follows a targeted teaching methodology to achieve the best performance for its students. Optimal support throughout your training with a team full of good humor to help you give your best. We are located in the best spot in the world, ideal for kitesurfing practice. Our Essaouira kitesurfing school also guarantees your safety by providing the best equipment tailored to your attributes.
Morocco has many spots for this discipline, and it is very close to the medina that you will find the Essaouira kitesurfing school with the best coaches, all having expertise in the field. To learn and assimilate this extreme sport in the best way possible, what could be better than Kitesurf Essaouira school with the Kitesurf Essaouira team.
The difference at Kitesurf Essaouira: An excellent spot, top-notch equipment, and our Essaouira kitesurfing school and club.
The Kitesurf Essaouira school in Morocco is known for its seasoned instructors who have received advanced training in the field and have a good level of experience. Kitesurf Essaouira is located in the Essaouira Bay, a renowned spot in the world for the quality of winds and incredible waves that occur there. We have several teaching sites with personalized training sessions. We offer options for group lessons with 3 to 4 people, or if you prefer a private option, you will have an instructor solely dedicated to you. We also offer special lessons for children. It is important to note that your children will be in good hands and will progress quickly in this sport.
Kitesurf Essaouira is the best kitesurfing club in Essaouira, with premium equipment for training to ensure the safety of our members. We have kites to share in pairs or a kite exclusively for you for private lessons. The Kitesurf Essaouira team welcomes you to share intense and unique moments in the best kitesurfing club in Essaouira.
Chronology of learning and training sequence at the Essaouira surf school.
A well-defined training offer with a program tailored to all levels:
High-quality equipment that complies with all safety regulations
Assisted takeoff and landing with your instructor
Mastering your kite
Detailed explanations on water starts
Water piloting exercises
Upwind riding
Surf club in Essaouira: What you need to know about our Essaouira kitesurfing school
Kitesurf Essaouira is a surf school in Essaouira, Morocco, located in the heart of the bay of this beach. We are here to provide you with the enjoyment of water sports and other exciting activities. The surf school in Essaouira Morocco, offers exceptional support to learn every day while having fun. The club has a wide range of equipment for all your activities, with an expert team, making us the best kitesurfing school in Essaouira.
You can directly contact the surf club in Essaouira by calling one of our service numbers, and a member of the Kitesurf Essaouira staff will assist you. The foundation of our service is honesty and professionalism. So what are you waiting for to sign up for the courses at the best kitesurfing club in Essaouira?